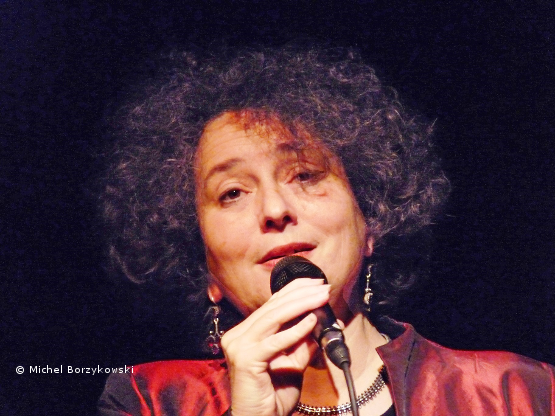 As a performer, Shura Lipovsky has given concerts with outstanding musicians from Europe and the United States, including Theodore Bikel(z''l), Tamara Brooks(z''l) and Merima Kljuco, with whom she formed the ensemble 'Serendipity 4', with pianist Zalmen Mlotek and guitarist/mandolinist Jeff Warschauer (CD 'Moments of Jewish Life'), with Monique Lansdorp and Jan Rokyta ( CD 'Tsart') and, since 2011, with the ensemble Novaya Shira (CD 'VAYTInKE' to appear in December 2013).
She sang for the official Memorial Concert of the Warsaw Ghetto Uprising with Warschauer and Mlotek. This concert which took place in the Warsaw Philarmonia in 1993, was broadcast live on Polish radio and became the CD 'Heroes and Poets'.
She sang for many years at the Jewish Music Festival in Krakow and in 1994 she did the opening concert of the Jewish Cultural Center in Krakow.
In 1996 she took part in 'The Klezmer Extravaganza' with Ytzhak Perlman in New York.
She was the soloist with the Ensemble Antequera and recorded the CD 'Jews and Christians', with interpretations of Sephardic repertoire in medieval style and with Cantiqua's di Santa Maria in 1996.
For a Rumanian/Yiddish program she formed the ensemble 'Yiddishe Veltn' and did the opening concert for the International Jewish Music Festival in Amsterdam in 2002.
In 2003 she formed 'Trio Shura Lipovsky', with cimbalom-player Jan Rokyta and violinist Monique Lansdorp. In 2006 Lipovsky produced the CD 'Tsart' with this trio.
In 2004 she initiated and performed a Jewish/Bosnian song-program with the intercultural Mostar Sinfonietta, in collaboration with the Bosnian accordionist Merima Kljuco. This program was put together by Shura Lipovsky and conducted by American guest-conductor Tamara Brooks for the occasion of the second conference of Musicians Without Borders in Utrecht. In 2005 Theodore Bikel joined the project, which toured through Poland under the name 'Bridge to Peace'. The Dutch journalist Rob Simons has made a documentary under the same title 'Bridge to Peace'.
In 2008 she performed with pianist Jacques Verheyen in the Delft Chamber Music Festival. This concert was live recorded on the National Dutch radio for classic music, radio 4.